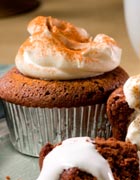 Yield: 12 cupcakes
For Cupcakes:
1/2 cup cocoa powder
3/4 cup unbleached all-purpose flour
1/4 teaspoon baking powder
1/8 teaspoon salt
8 tablespoons unsalted California butter, softened
1 cup, plus 2 tablespoons sugar
3 large eggs
1/3 cup California milk
3/4 teaspoon vanilla extract
1/2 teaspoon lemon juice
For Frosting:
12 tablespoons marshmallow fluff (for filling)
Whipped cream
Ground cinnamon
Cupcakes:
Preheat oven to 350°F. Grease and flour insides of 12 muffin cups or insert paper liners.
In a small bowl, combine cocoa powder, flour, baking powder and salt; set aside. With an electric mixer, cream together butter and sugar until smooth. Add eggs one at a time, making sure each is incorporated before adding the next.
In a small bowl or measuring cup, stir together milk, vanilla extract and lemon juice. Note: mixture will curdle slightly.
With electric mixer on low speed, add one-third of cocoa and flour mixture to butter and sugar mixture, mixing until combined.
Add half of milk mixture and mix well. Mixing well between each addition, add another third of the dry ingredients, the remaining milk mixture and then the remaining dry ingredients.
Evenly divide batter between cupcake molds. Bake until a toothpick inserted in the middle comes out clean, about 15 minutes. Cool for 15 minutes. Remove the cupcakes from the pans. Cool completely before frosting.
Frosting:
Scoop a hole out of the center of each cupcake about 1/2-inch deep and 1 1/2-inches wide. Fill each hole with 1 tablespoon of marshmallow fluff. Cover with plastic wrap until ready to serve.
Just before serving, place a large dollop of whipped cream on top of each cupcake. Dust with ground cinnamon and serve immediately.