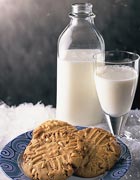 Makes About 3 Dozen Cookies
1 cup butter, softened
1 cup granulated sugar
1 cup packed dark brown sugar
2 large eggs
2 teaspoons vanilla extract
1 1/2 cups coarsely chopped roasted and lightly salted peanuts
1 cup extra-crunchy peanut butter, at room temperature
2 3/4 cups all-purpose flour
1/2 teaspoon baking powder
1/2 teaspoon baking soda
1/2 teaspoon salt
Heat oven to 350°F.
In large mixer bowl, beat butter and sugars until fluffy.
Add eggs and vanilla; beat on low speed 3 minutes. Mix in peanuts and peanut butter to blend thoroughly.
In another bowl, mix flour, baking powder, baking soda and salt; mix into butter mixture to blend thoroughly.
Form dough into 2-inch balls and place, spaced 2 inches apart, on ungreased baking sheets. Flatten slightly to 1/2 inch thickness by criss-crossing tops lightly with fork. Bake 10 to 14 minutes until edges are lightly browned.
Cool on pans 2 minutes, then remove to racks to cool completely.