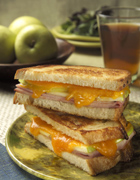 Yields 4 Servings
2 tablespoons butter, room temperature
8 slices sourdough bread (1/4 inch thick)
1/4 pound smoky ham, cut into 4 slices (or buy pre-sliced ham)
1 small green apple (about 5 ounces), such as Granny Smith, cut into 1/8-inch-thick slices
6 ounces medium or sharp California Cheddar cheese, coarsely grated
Using a table knife, butter one side of each slice of bread and lay butter-side down on your work surface. Place a slice of ham on each bread slice, folding it to fit if necessary.
Top with 4 to 5 apple slices per sandwich, follow with grated cheese fit to bread slice.
Butter the remaining 4 bread slices and place on top of each assembled sandwich, butter side up. (If necessary, press the top slice down to compress the ingredients slightly.)
Using the stovetop, heat a large nonstick skillet over medium-high heat for 2 minutes. Put the sandwiches in the skillet (in batches if necessary), cover, and cook for 2 minutes, or until undersides are golden brown and the cheese has begun to melt.
Uncover, and flip each sandwich carefully using a spatula, pressing firmly to flatten slightly. Cook for 1 minute, or until the undersides are golden brown.
Carefully flip the sandwich again, pressing with the spatula, and cook for 30 seconds, or until the cheese has melted completely. Serve immediately.