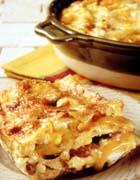 Yields 6-8 Main Course Servings
For the casserole:
Spray vegetable oil
12 corn tortillas
1 1/2 - 2 cups prepared enchilada sauce
4 cups of shredded California Mexican cheese blend or 1 cup each of shredded California Monterey Jack, California Cheddar, California Jalapeño Jack and crumbled California Cotija cheeses (Note: if you can't find Cotija, just increase by 1 cup the amount of other cheeses used)
1 cup roasted skinless chicken, cut into bite-size pieces tossed with about 2 teaspoons enchilada seasoning
1 cup canned pinto beans, drained well, seasoned with 1/2 teaspoon each of ground cumin and garlic powder
1/3 cup each of canned kernel corn, sliced black olives, and mild green chilies, well drained
2 tablespoons of cilantro, minced mixed with 2 green onions, sliced
For cooking sauce:
2 eggs
1/2 teaspoon salt
1/2 cup half & half, milk or evaporated milk
1/2 cup sour cream
Preheat oven to 350°F. Place all cooking sauce ingredients in a bowl and whisk together. Set aside for use. Spray casserole dish with vegetable oil. Assemble first layer by spreading about 6 tablespoons of enchilada sauce on bottom of casserole. Top with 4 tortillas, overlapping them. Cover tortillas with 6 more tablespoons of enchilada sauce.
Assemble second layer by mixing chicken with 3 cups of the shredded California cheese, reserving the one-cup of cheese for later use. Layer half this mixture over the tortillas. Set aside the other half of cheese-chicken mixture for another layer.
For the third layer, spread the seasoned beans over the cheese-chicken layer.
For the fourth layer, overlap 4 tortillas and cover with 6-8 more tablespoons of enchilada sauce. Cover with corn, olives and chilies. Top with remaining cheese-chicken mixture.
For final layer, cover filling with 4 overlapping tortillas, then spread 6 tablespoons of enchilada sauce over them. Pour cooking sauce over casserole. Top these with remaining cup of shredded cheeses. Let rest for at least 30 minutes.
Bake for 50-60 minutes, or until bubbling. Remove and rest for 10 minutes before cutting. If baking after setting in the refrigerator, allow an extra 10-15 minutes cooking time. Sprinkle with cilantro and green onions and serve with lime wedges and sour cream.