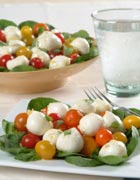 Yield: 4 Entrée Servings
1 pound cherry tomatoes
1 pound California Fresh Mozzarella (Ciligiene, or balls the size of cherry tomatoes)
1 lemon, zested and juiced (about 2 tablespoons of juice)
1 clove garlic, finely chopped
10-12 fresh basil leaves, torn into small pieces
3 tablespoons extra-virgin olive oil
Salt and black pepper to taste
1 package (about 5 ounces) baby spinach leaves, cleaned and dried
Leaving the smallest cherry tomatoes whole, halve the remaining ones and toss in a bowl with the Mozzarella, lemon zest and juice, garlic, basil leaves and olive oil.
Season to taste with salt and pepper and refrigerate for up to one hour.
Arrange spinach leaves on platter or divide among plates. Mound tomatoes and cheese on the bed of spinach.