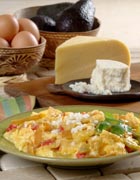 Yields 4 Entreé Servings
6 eggs
2 tablespoons salsa
2 tablespoons olive oil or butter
3 corn tortillas, cut into strips (or 12-16 tortilla chips, broken)
1/2 medium onion, diced (about 1 cup)
3 tablespoons canned diced green chiles
1/2 cup canned chopped tomatoes, drained well
1 teaspoon ground cumin
2 cups (8 ounces) shredded California Monterey Jack cheese
1/2 cup (2 ounces) crumbled California Queso Fresco or California cow's milk Feta
2 teaspoons chopped cilantro
1/2 avocado, sliced
Crack eggs into a small bowl; add salsa. Whisk just enough to combine. Set aside.
In a large skillet, nonstick if possible, heat the oil or butter over medium heat. Add the tortilla strips and sauté until lightly crisp, about 4 minutes. (If using tortilla chips, reserve for later use.) Add onion, chiles, tomato and cumin, and cook until onion is soft but not brown.
Pour egg mixture over all, stirring lightly with a spatula or wooden spoon as it cooks. (If using tortilla chips, add them about 1 minute before egg mixture is done.) Add Jack cheese, stir once more and remove pan from heat. Garnish with crumbled Queso Fresco or Feta, cilantro and avocado slices. Serve immediately.
Variation:
Add cooked chorizo, shredded pork, chicken or beef. If using cooked meat or chorizo, add to pan after onion and chiles are cooked, and before egg mixture is added.