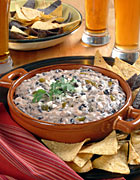 17 appetizer-sized servings (about 2 3/4 cups)
2 tablespoons vegetable oil
1 cup diced white onion
1 tablespoon finely chopped garlic
1 or 2 tablespoons canned diced jalapeño peppers (adjust to your taste preference)
1 (15-ounce) can black beans, rinsed and drained
1 1/2 cups (6 ounces) pre-shredded California Mozzarella or California Monterey Jack
1/2 cup sour cream
1/2 teaspoon ground cumin
1/4 teaspoon cayenne pepper
Salt and freshly ground black pepper, to taste
1/2 cup (2 ounces) crumbled California Cotija (or substitute crumbled California cow's milk Feta)
In a medium skillet, heat oil over medium heat. Add onion, garlic and jalapeño peppers; sauté until onions are soft, about 5 minutes.
Add the beans and smash with the back of a ladle or large spoon until softened and heated through, another 2-3 minutes.
Remove from heat and stir in pre-shredded Mozzarella or Monterey Jack, sour cream, cumin and cayenne pepper, stirring until cheese is melted. Season with salt and pepper to taste.
Transfer to a serving dish and sprinkle Cotija cheese on top. Serve warm or at room temperature with chips and vegetables.