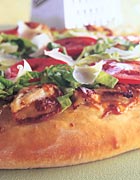 2 - 4 Entrée Servings
12" pre-baked pizza crust
1 1/2 cups sautéed or roasted chicken breast, shredded
1/2 cup bottled creamy Caesar dressing, divided
2 teaspoons minced garlic
1/2 cup (2 ounces) shredded California Provolone
1 2/3 cups (7 ounces) shredded California Mozzarella
2 large leaves Romaine lettuce, halved lengthwise and sliced crosswise into thin ribbons
1 large Roma tomato, thinly sliced
3 tablespoons shaved or grated California Parmesan
Preheat the oven to 450°F.
While the oven is heating, toss the shredded chicken with 1/4 cup of the Caesar dressing and the garlic. Set aside.
On the pre-baked crust, spread the remaining 1/4 cup of Caesar dressing, leaving a 1/2-inch border. Arrange the chicken mixture evenly over the sauce. Scatter Provolone and Mozzarella over the top.
Place the pizza on a sheet pan and set in the oven on the upper rack. Bake the pizza until the cheese is melted and bubbly and the crust is golden brown, about 15 minutes.
Remove pizza from the oven and transfer to a cutting board. Scatter the lettuce over the pizza and arrange the tomato slices evenly over the lettuce. Distribute the Parmesan over the top. Slice the pizza into wedges and serve immediately.