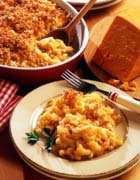 Yields 4 Main Course or 6-8 Side Dish Servings
1/2 cup butter, divided
1 medium onion, chopped
1/4 cup flour
2 cups warm whole milk
2 cups warm half-and-half
2 teaspoons Dijon-style mustard
2 teaspoons Worcestershire sauce
4 1/2 cups (18 ounces) shredded extra-sharp California Cheddar cheese, divided
Salt, cayenne and freshly ground black pepper, to taste
1 pound elbow macaroni, cooked as package directs and drained
1 1/3 cups fresh or dry bread crumbs
2 tablespoons chopped fresh parsley
Preheat oven to 400°F. Melt 1/4 cup of the butter in large saucepan over medium heat; add onion. Sauté 3 minutes. Stir in flour; cook, stirring, 3 minutes. Whisk in milk and half-and-half.
Cook until slightly thickened, about 6 minutes. Stir in mustard and Worcestershire sauce. Remove from heat. Stir in 3 1/2 cups of the cheese until melted. Season with salt, cayenne and black pepper. Place cooked macaroni in greased 9 x 13-inch baking dish; pour sauce over and mix completely. Top with the remaining 1 cup cheese. Bake for 20 minutes.
Meanwhile, melt the remaining 1/4 cups butter in large skillet over medium heat. Add bread crumbs; cook and stir until lightly toasted. When pasta is hot and bubbly, sprinkle crumbs over top. Broil until crumbs are golden brown, about 1 minute. Sprinkle with parsley. Serve hot.