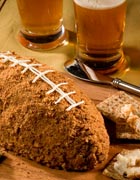 Yield 1 football
2/3 cup (6 ounces) California Cream Cheese
2-3 cloves garlic, finely chopped
1/4 teaspoon salt
1/8-1/4 teaspoon cayenne pepper
2 cups (8 ounces) grated California Monterey Jack cheese
2 cups (8 ounces) crumbled California Blue Cheese
1/2 cup chopped walnuts, toasted
2/3 cup coarsely crushed rye crackers
In a large bowl or food processor, combine Cream Cheese, garlic, salt and cayenne pepper. Beat or process until blended and smooth. Add Monterey Jack and Blue cheeses as well as walnuts, and beat vigorously until ingredients are evenly mixed. If using a food processor, take care not to over-mix; cheese should retain some of its texture. Chilling is not essential; however, the mixture will be easier to shape if refrigerated for 2-3 hours.
Spread rye cracker crumbs on a large plate or sheet of waxed paper. Dampen your hands with water to keep the cheese mixture from sticking to them. Pat and press mixture into a football shape; don't worry about keeping the shape perfect. Pat on cracker crumbs, pressing gently so the crackers stick. Wrap in plastic wrap and chill until ready to serve.
Optional:
Decorate cheese football with laces made from sour cream. To pipe on sour cream, snip the corner of a plastic sandwich bag. Spoon sour cream into bag and gently squeeze out of the snipped end to pipe onto football shape.