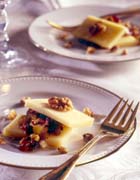 Yields 4 Servings
Cheese:
8 rectangular slices sharp California White Cheddar, about 2 1/2" x 1 1/2" x 1/4" each (about 1/2 ounce per slice)
Apple and Walnut Conserve:
2/3 cup diced red apple (about 1 medium apple)
2/3 cup diced green apples (about 1 medium apple)
1/2 cup brown sugar
1/3 cup golden raisins
1/4 cup chopped walnuts
2 tablespoons apple cider vinegar
In a small saucepan combine all ingredients except the cheese. Cook over medium-low heat for 15 minutes, stirring occasionally. Remove from heat and let cool.
For each serving, place one slice of cheese on an individual serving plate. Top with 1/4 of the conserve mixture. Partially overlap with another slice of cheese. Garnish with walnuts.