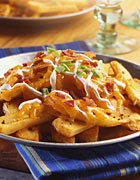 Yields 4 Appetizer-size Servings
2 teaspoons steak seasoning
24 ounces frozen French fries ("steak" fries)
1 cup California Cheddar, shredded
1/3 cup real bacon bits
1/2 cup sour cream blended with 4 teaspoons milk
4 green onions, thinly sliced
Preheat oven to 450°F. Spray frozen fries with olive oil, tossing to coat all sides.
Sprinkle fries with seasoning and toss to coat evenly.
Bake on a cookie sheet in a single layer according to manufacturer's directions, flipping fries over halfway during cooking so both sides crisp evenly.
Remove from oven and top with shredded Cheddar. Return to oven for 30-60 seconds, or until cheese melts.
Remove from oven and quickly drizzle with sour cream-milk "dressing"; sprinkle with bacon bits and green onion and serve.