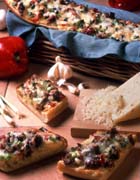 Yields 8 Servings
1/2 pound hot Italian sausage
1/4 cup mayonnaise
2 tablespoons prepared Dijon mustard
1 small clove garlic, minced
1-pound long loaf of French bread, halved lengthwise
1 bunch green onions, thinly sliced, including some of the green part
3/4 pound (3 cups) grated California Jalapeno Jack cheese, coarsely grated
1/2 cup chopped roasted red peppers
Preheat broiler. Put sausage in a skillet and cook over moderate heat, breaking up clumps with a fork, until it is no longer pink. Drain in a sieve, then chop any clumps coarsely.
In a small bowl, stir together mayonnaise, mustard and garlic. Spread evenly over cut surfaces of bread. Top with half the green onions, then with two-thirds of the cheese.
Top cheese with sausage and red peppers, then sprinkle with remaining cheese and green onions in that order. Carefully transfer bread to a baking sheet and broil until cheese is melted and bubbly. Serve immediately on a cutting board with a knife.