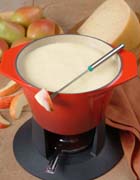 Yields 6-8 Appetizer Servings
For the fondue:
2 cups (8 ounces) California Gouda cheese, grated coarsely
2 cups (8 ounces) California Swiss cheese, grated coarsely
2 tablespoons cornstarch
1/4 teaspoon white pepper
Pinch of nutmeg
1 clove garlic
1 1/2 cups dry white wine
1 tablespoon lemon juice
For dipping:
Bread, vegetables and fruit
In a medium bowl toss the cheeses with cornstarch, ground white pepper and nutmeg.
Cut the garlic clove in half and rub the cut sides around the inside of the fondue pot. Discard the garlic.
In a medium saucepan, heat the wine and lemon juice over high heat. Bring to a boil. Lower the heat to medium and toss in a handful of cheese, whisking constantly until the cheese melts. Continue adding cheese and whisking until the sauce is smooth. Remove from the heat as soon as it is smooth. It will become stringy and tough if overcooked.
If you are using a fondue pot:
Light the burner under the fondue pot and reduce to a low flame. Transfer the cheese into the fondue pot. Pass the bread or optional dipping ingredients, spear on a long fork and dip into fondue.
For individual servings:
Pour a small amount (3-4 ounces) of the hot cheese sauce into ceramic ramekins or small cups. Place the cups on a saucer or small plate and surround with a variety of bread pieces, vegetables or fruit. Serve immediately.