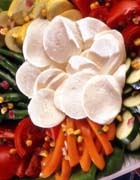 Yields 4 Servings
2 tablespoons Dijon-style mustard
2 tablespoons sherry wine vinegar
1 tablespoon lemon juice
10 tablespoons extra virgin olive oil
Salt and freshly ground pepper, to taste
1 ear of corn, blanched, cooled and kernels cut from cob
1/4 cup finely chopped red onion
1 tablespoon chopped Italian parsley
Butter lettuce leaves
1 bunch asparagus tips, blanched and cooled
2 medium zucchini, thinly sliced on the diagonal
2 yellow squash, thinly sliced on the diagonal
4 small tomatoes, cut into wedges
1 medium orange bell pepper, cut into thin strips
3/4 to 1 pound fresh, water-packed type Mozzarella cheese, sliced (use more if you prefer)
To make dressing, in a small bowl whisk together mustard, vinegar and juice. Slowly whisk in oil until emulsified. Season with salt and pepper.
In another bowl combine corn, onion and parsley with 2 tablespoons of the dressing; set aside relish and remaining dressing.
To assemble salads, line 4 dinner plates or large platter with lettuce leaves. Assemble vegetables in bundles and decoratively arrange on greens. Drizzle remaining dressing over the greens and vegetables. Place cheese slices in center of plates. Sprinkle relish over cheese and vegetables. Serve immediately.