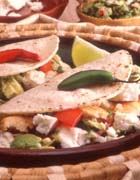 Yields 6 servings (12 tacos)
For the tacos:
1 1/2 pounds swordfish or other whitefish steaks or fillets
Vegetable oil
Salt and pepper
1 tablespoon lime juice
1/2 teaspoon ground cumin
12 corn tortillas
6 ounces California Queso Fresco cheese*, crumbled (*can substitute Asadero or Monterey Jack)
2 medium ripe tomatoes, diced
1 cup shredded cabbage
Avocado Radish Salsa:
2 medium avocados, chopped
1/3 cup finely chopped onion
3/4 cup diced radish
5 serrano chili peppers, seeded and finely chopped
3 tablespoons cilantro, finely chopped
1 garlic clove, finely chopped
Juice of 1 lime
Salt and pepper to taste
Rinse fish and pat dry with paper towels. Rub oil on both sides to coat; season with salt and pepper. Grill or broil fish 6 to 9 minutes, until cooked through, cool slightly. Remove skin and bones; cut fish into 1 1/2-inch strips.
In medium bowl, toss fish with lime juice and cumin. Meanwhile, combine salsa ingredients in small bowl. Warm tortillas in microwave or oven (preheated to about 275°F). Place equal amounts of fish, cheese, tomatoes, cabbage and salsa in the center of each tortilla. Roll up the tacos to serve.