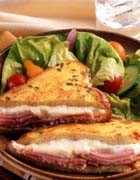 Yields 4 Sandwiches
3 large eggs
11/2 tablespoons Dijon-style mustard
1 1/4 teaspoons finely chopped fresh tarragon leaves
1/4 teaspoon freshly ground pepper
8 slices (1/4-inch-thick) egg bread
2 tablespoons butter
8 ounces Teleme cheese, cut into 16 slices (or use Monterey Jack)
4 (1-ounce) slices Black Forrest ham
In a medium bowl, lightly beat together the eggs, mustard, tarragon and pepper.
Dip each bread slice into the egg mixture, making sure that both sides are thoroughly coated. Put dipped slices on a plate and set aside.
In two large sauté pans, melt 1 tablespoon butter in each over medium-high heat.
Add four bread slices to each pan. Cook until the undersides are dark golden brown, about 4 minutes.
Turn slices and place 4 slices of cheese and one slice of ham on each of the four slices of bread. (You may need to fold the ham slices in half to fit the bread.)
Cover with the other four bread slices, placing the cooked side down over the cheese and ham. (You will now be using only one pan.) Cover the pan and cook for 2 to 3 minutes or until the bottom sides of the bread is browned. Using a spatula, turn the sandwiches, press to flatten slightly, and cook 2 to 3 minutes more, or until bread is toasted and cheese is melted. Cut in half and serve immediately. If desired, serve a little extra Dijon-style mustard on the side.