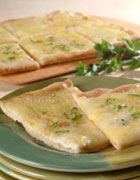 Yields 1 Pizza
Dough and Cheese
12"-14" pizza crust
1 1/2 cups (6 ounces) California Mozzarella, shredded
1 1/2 cups (6 ounces) California Monterey Jack, shredded
Pizza Pantry Ingredients
1/2 cup Ranch dressing
1 teaspoon dried oregano (or 2 tablespoons fresh oregano, chopped)
1 teaspoon dried basil (or 2 tablespoons fresh basil, chopped)
Preheat oven to 425°F.
Spread Ranch dressing on partially backed crust. Sprinkle Mozzarella and Monterey Jack evenly over dressing. Sprinkle herbs evenly over cheese.
Bake about 15 minutes, or until cheese is melted and bubbly and the crust is crisp and golden.
Variations:
Western White
Ricotta is a fresh Italian-style cheese that gives this pizza a slightly sweet and creamy texture. Mix 1 cup Ricotta with oregano, basil, and salt and pepper to taste. Spread the seasoned Ricotta over Ranch dressing. Add 1/2 cup diced onion and sprinkle Mozzarella and Monterey Jack over all.
Western Green and White
For a more adventurous version of the classic White Pizza, sprinkle 1 cup chopped fresh spinach and 1 cup cooked chicken (shredded or cubed) over Ranch dressing. Sprinkle Mozzarella, Monterey Jack and herbs over all.