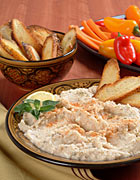 22 appetizer-sized servings (about 3 1/4 cups)
2 (15-ounce) cans white beans (cannellini or Great Northern), drained and rinsed
3/4 cup chicken or vegetable stock
1 cup (4 ounces) pre-shredded or grated California Monterey Jack, or substitute a flavored variety such as California Pepper Jack
2 tablespoons sour cream
1/2 cup crumbled California cow's milk Feta
1 lemon, juiced (about 2 tablespoons)
1 teaspoon dried oregano
Salt and cayenne pepper to taste
Optional: drizzle of olive oil
In a medium saucepan, heat beans and stock on medium heat until warmed through, about 5 minutes. Remove from heat and stir in shredded Monterey Jack. Cool slightly.
Place the warm bean mixture in a food processor or blender. Puree to a smooth consistency, adding a little more stock or water if needed.
Pour the warm bean mixture back into the saucepan or into a bowl, and stir in sour cream, crumbled Feta, lemon juice, oregano, salt and cayenne pepper.
Transfer to a serving dish. Drizzle with olive oil if desired. Serve warm or at room temperature with chips and vegetables.