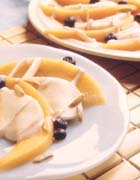 Yields 4 Main Course Servings
For the dressing:
1 cup plain nonfat yogurt
2 tablespoons plus 1 teaspoon of your favorite honey
For the salad:
1 cantaloupe, peeled and seeded
2 packages 8-ounce size California Fresh Mozzarella balls, cut each into 8 slices
1 cup fresh blueberries
1/2 cup toasted, slivered almonds
2 teaspoons poppy seeds (optional garnish)
Put dressing ingredients in a deep bowl and whisk until smooth and creamy.
Cut each cantaloupe half into 1/2-inch slices. Reserve.
On four sandwich-sized plates, fan out three slices of melon. Tuck one slice of Mozzarella in the center of each slice of melon. Sprinkle each plate with blueberries. Drizzle with the dressing. Sprinkle each salad with almonds and poppy seeds.