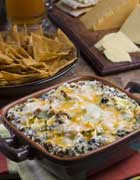 Yields 3 cups
1 cup California sour cream
4 ounces (1/4 lb) California cream cheese, softened
1 can (14 ounces) artichokes in water, drained
1 box (10 ounces) frozen chopped spinach, thawed and squeezed dry (about 1 cup spinach after water is removed)
1 tablespoon lemon juice
2 cloves garlic, crushed
1 1/2 cups grated Cheddar and Monterey Jack cheese mix (in two portions)
Salt and cayenne pepper to taste
In food processor or blender, combine sour cream and cream cheese and process until smooth, about 1 minute. Add artichokes, spinach and garlic. Process or chop until well combined, scraping sides of the work bowl or blender jar as needed.
In a large mixing bowl, combine artichoke mixture, lemon juice, half the grated cheese and salt and cayenne pepper to taste. Transfer mixture to a 1-quart microwave-proof baking dish and spread smoothly.
Cover with a paper towel and microwave on high for 3-4 minutes, or until bubbly around the edges. Remove bowl (it will be hot) and sprinkle remaining cheese over the top. Microwave on high for 1 minute, until cheese is melted.
Oven Directions:
Preheat oven to 400°F. Add final sprinkling of cheese to top of dip and bake, uncovered, for 20-25 minutes or until slightly browned and bubbly.)
Note:
Serve with pita chips, bagel chips, baked tortilla chips, crisp potato skins or crunchy raw vegetables.