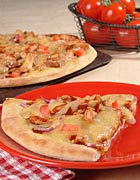 Yields 1 Pizza
Dough and Cheese
12"-14" pizza crust
2 cups (8 ounces) California Monterey Jack or California Cheddar, shredded
Pizza Pantry Ingredients
1/2 cup bottled barbecue sauce
2 cups cooked chicken, beef or pork, shredded or cubed
1 cup canned tomatoes, diced and drained
Preheat oven to 425°F.
Spread barbecue sauce on partially baked crust. Arrange meat and tomatoes evenly over the sauce. Sprinkle cheese evenly over pizza.
Bake about 15 minutes, or until cheese has melted and the crust is crisp and golden.
Variations:
Hickory Double Cheese Pizza
If you love hickory flavor, this is your pizza. Sprinkle 1 cup shredded California Mozzarella and 1/2 cup thinly sliced red onions onto partially baked crust. Toss cooked chicken, beef or pork (shredded or cubed) with 1/2 cup hickory smoked barbecue sauce and spread over Mozzarella. Add tomatoes and sprinkle 1 cup shredded Monterey Jack or Cheddar and an extra drizzle of hickory sauce over all.
Barbecue Chile Pizza
This variation assumes a lively Southwestern accent. Mix one 4-ounce can chopped green chiles drained (finely minced) with 1/4 cup bottle barbecue sauce. Mix cooked chicken, beef or pork (shredded or cubed) in sauce mixture and spread on crust. Add 1 cup fresh or frozen corn and tomatoes. Sprinkle with Monterey Jack or Cheddar.