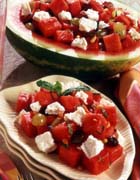 Yields 4 Servings
1/4 cup olive oil
2 tablespoons fresh mint leaves julienned (finely sliced)
4 teaspoons champagne vinegar
1/2 small chilled watermelon, preferably seedless (about 6 pounds)
3/4 cup each red and green seedless grapes, halved
1 cup crumbled California Feta cheese (about 5 ounces)
1/4 cup pine nuts, toasted
Mint sprig, for garnish
In large bowl whisk together oil, mint leaves and vinegar; set aside.
With a sharp knife cut around edge of watermelon to within 1/2 inch of rind. Then cut a deep cross through the flesh, leaving rind intact and reserving for later use. Scoop out each quadrant of watermelon and cut flesh into 3/4-inch cubes.
Place in bowl with vinaigrette, watermelon flesh, grapes and feta; toss gently. Use watermelon shell for serving and if necessary, slice off a sliver of its bottom so it sits level. Spoon watermelon mixture into shell and sprinkle with nuts. Garnish with mint sprig. Serve immediately.