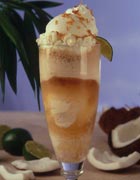 Makes 1 serving
2 scoops (about 1/3 cup each) vanilla ice cream
Chilled ginger beer or ginger ale
Squeeze of fresh lime juice
3 tablespoons lightly sweetened whipped cream
1 tablespoon toasted shredded coconut*
Lime slice, for garnish
Place ice cream in a tall 16-ounce glass. Fill with ginger beer. Add a squeeze of lime juice; stir. Top with whipped cream and coconut. Garnish with lime slice. Serve immediately with straws and a spoon.
To toast coconut:
Heat an oven to 350°F. Spread coconut on a baking sheet with sides. Bake in the center of the oven 8 to 10 minutes or until lightly browned, stirring often. Cool. Store in an airtight container.
Recipe adapted from Farallon, San Francisco: Don Hall, pastry chef, Emily Luchetti, executive pastry chef.