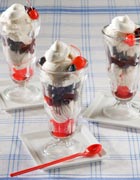 Flag Parfait
In a parfait glass, layer maraschino cherries, vanilla or strawberry ice cream, fresh blueberries, another layer of ice cream and canned Bing cherries in heavy syrup. End with a scoop of ice cream, top with whipped cream, red and blue jimmies, and a sparkler or a small paper American flag.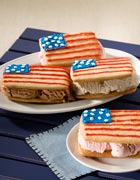 Flag Cookies
Roll out sugar cookie dough, cut into rectangles and bake. Decorate half the cookies with red, white and blue icing to look like American flags. Place a scoop of any flavor ice cream on undecorated cookies, spread with a small spatula and top with a decorated cookie. Freeze.
Ascoop from Alcatraz
Scoop rocky road ice cream into a waffle cup; draw "prison bars" on ice cream with chocolate syrup or fudge sauce. Garnish with chocolate chips, mini-marshmallows and toasted pecans.
The Cable "Car"-a-mel Sundae
Scoop vanilla and dulce de leche ice cream into a sundae dish; top with caramel sauce, salted peanuts and maraschino cherries.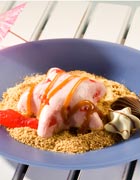 The Sand-i-ego Starfish
Line star-shaped molds with plastic wrap; fill with chocolate, strawberry or fudge ripple ice cream. Freeze until firm. Sprinkle a plate with graham cracker crumbs, unmold ice cream stars and arrange on top. Garnish with seashell-shaped chocolates, gummy fish or sharks and caramel sauce; sprinkle more graham cracker crumbs on top. Garnish with a paper drink umbrella.
The "Reel" Chocolate Milk Shake
In blender on low speed, blend 1 1/2 cups chocolate ice cream, 1/2 cup milk and 1/4 cup chocolate syrup. Decorate inside of a tall, clear glass drizzled with chocolate syrup; carefully pour in milk shake. Top with chocolate whipped cream (recipe below) and mini chocolate sandwich cookies.
Chocolate Whipped Cream:
Whisk 1 cup heavy cream with 2 tablespoons confectioner's sugar and 1 tablespoon unsweetened cocoa powder until stiff. (Yield: 2 cups)
Central Valley Ice Cream
Scoop vanilla, almond or almond fudge ripple ice cream into a shortcake cup, top with cherry sauce (recipe below) and garnish with toasted sliced almonds. Add fresh or canned sliced peaches for color.
Cherry Sauce:
In saucepan, heat one 15-ounce can Bing cherries in heavy syrup. Mix 2 teaspoons cornstarch with 1 tablespoon water; stir into cherries. Simmer about one minute or until thick; cool. (Yield: 2 cups)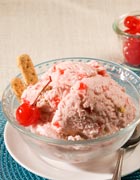 Cherry Pie Ice Cream
Rich, homemade vanilla ice cream with chopped maraschino cherries and crumbled cinnamon graham crackers mixed in (recipe below), or fold chopped maraschino cherries and crumbled graham crackers into softened premium vanilla ice cream; freeze.
Heat 3 cups heavy cream and 1 cup milk to just below the boil. Whisk 5 egg yolks, 1/2 cup sugar and a pinch of salt until just blended. Strain hot cream onto egg yolk mixture, whisking constantly. Return to saucepan and cook slowly, stirring constantly, until it coats the spoon. Strain, add 1/4 teaspoon almond extract and one 16-ounce jar drained, chopped maraschino cherries. Cool completely; freeze in ice cream machine according to manufacturer's directions. Fold in 1 1/2 cups cinnamon graham crackers, broken into 1-inch pieces. Freeze until firm. (Yield: 1 quart)
View larger images