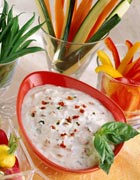 1 cup plain low-fat yogurt
3 Tbsp. shredded Parmesan cheese
2 Tbsp. chopped fresh basil
1 Tbsp. finely chopped oil packed sun dried tomatoes
1/2 tsp. garlic salt
1/4 tsp. sugar
Stir together all ingredients in a medium bowl. Cover and chill for at least 1 hour for flavors to blend.
Serve with sliced raw vegetables, crackers and/or bread cubes.