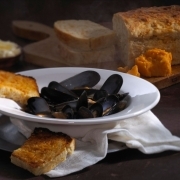 4 tablespoons Real California butter, divided
3 cups bread flour
1/2 cup sugar
1 tablespoon baking powder
1 1/2 cups beer, room temperature
1 cup grated sharp Real California Cheddar cheese
Heat oven to 375°F. Butter a 9- x 5-inch loaf pan with 1 tablespoon butter. Melt remaining butter and set aside. Sift flour, sugar and baking powder into a large mixing bowl. Add beer, cheese and melted butter. Mix well, being careful not to over mix; the batter should be sticky but smooth. Pour into prepared loaf pan. Bake 35-45 minutes or until a toothpick inserted comes out clean. Cool in pan for 5 minutes; remove from pan and cool completely on rack. With a serrated bread knife, cut into 16 slices.
Makes one loaf.
Nutrition Information Per Serving (1 slice): 157 calories; 6 g fat; 15 mg cholesterol; 138 mg sodium; 21 g carbohydrate; 1 g fiber; 5 g protein
Note: The flavor of this bread will be guided by the beer you choose to use. This beer bread is a great accompaniment to dishes such as mussels. Any beer can be used from pale ales, to lagers, to stouts depending on what you are serving it with and what type of beer you like. If paired correctly with Mussels, ideally a Belgian Wit is used.