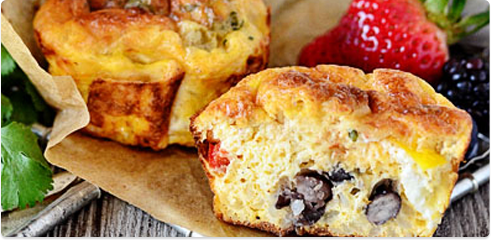 Makes 12 servings.
Prep Time: 15 min
Ingredients
2 cups refrigerated hash browns, uncooked
8 whole eggs, large
1/2 cup California cottage cheese
1/2 teaspoon baking powder
1/4 cup diced bell pepper
2 tablespoons salsa, chunky
2 ounces green chiles, diced
Salt and pepper to season
1/2 cup black beans
1/2 cup California Mexican cheese blend
1 teaspoon Smoked Paprika
2 tablespoons fresh Cilantro, chopped
1/2 cup California Queso Blanco Cheese, shredded
Directions
Preheat oven to 375. Coat a 12-cup muffin tin with cooking spray. Fill each muffin tin with approximately 1/8 cup of potatoes, season with salt and pepper. Bake 15-20 minutes or until they start to turn golden brown on top. While potatoes are baking, whisk eggs in a medium bowl and combine with cottage cheese, baking powder, bell peppers, salsa, green chiles and salt and pepper to taste. Remove potatoes from oven, fill each cup with about 1 tablespoon of black beans and California Mexican cheese blend, then evenly divide egg mixture into each cup. Top each egg cup with a sprinkle of cilantro and paprika and a pinch of shredded queso blanco cheese. Return to the oven and bake an additional 25 minutes or until they puff up nicely and are just barely set on top (do not overcook or they will be spongy). Enjoy warm, or let cups cool completely to room temperature and store leftovers in the fridge in an airtight container. To reheat, wrap the egg cup in a paper towel and reheat in microwave for about 30-45 seconds. Be careful not to microwave too long or they will get tough.