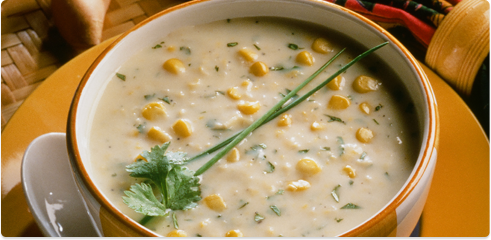 Makes 8 cups/6 servings.
Ingredients
1 tablespoon Real California butter
1 large onion, chopped
1 quart 2% Real California milk
1 tablespoon firmly packed brown sugar
1 package (16 oz.) frozen corn, thawed
1 can (14 oz.) chicken broth
1/4 teaspoon freshly ground black pepper
1/4 cup cornstarch dissolved in 3 tablespoons water
1/3 cup lightly packed cilantro leaves, chopped thinly sliced green onions, for garnish (optional)
Directions
In a 3-quart saucepan, melt butter over medium heat. Add onion; cook until soft, stirring occasionally, about 8 minutes. Meanwhile, in a 2-quart microwaveable measuring cup or dish, cook milk in microwave on high about 9 minutes or until hot; cover to keep warm *. Add sugar to onion; cook, stirring frequently, until light brown, about 7 minutes. Set aside 1 cup corn; add remaining corn, broth, and pepper to onions; bring to boil. Add cornstarch mixture; cook and stir 2 minutes. Pour into food processor, in batches if necessary; process until almost smooth. Return to pan; add reserved corn, heated milk and cilantro. Cook over medium heat, stirring frequently, until heated through. Garnish with green onions if desired.