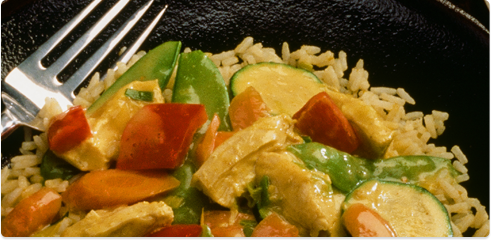 Makes 6 servings.
Ingredients
1 tablespoon Real California butter
8 green onions, thinly sliced, white separated from dark green tops
2 garlic cloves, minced
1 1/2 tablespoons minced fresh ginger
1 tablespoon curry powder
1 boneless, skinless uncooked chicken, cut into small chunks*
4 cups sliced seasonal vegetables, any combination of 3 or 4 vegetables such as green and red bell pepper, carrots, snow peas, zucchini, yellow squash, broccoli, cauliflower or asparagus
1 3/4 cups chicken stock or 1 can (14-1/2 ounces) chicken broth
1/4 cup cornstarch
1 3/4 - 2 cups low-fat 2% Real California milk
Salt and pepper
Directions
Prepare rice. Meanwhile, melt butter over medium-high heat in a large, shallow pot, or large sauté pan with 2-inch sides. Add the white part of the onions, garlic, ginger and curry powder; cook and stir 1 minute. (Reserve the dark green tops of the onions and serve as a condiment.) Add chicken; cook and stir 2 minutes. Add longer cooking vegetables such as carrots or broccoli and chicken broth. Bring to a boil; reduce heat, and simmer until vegetables are almost tender. Add quicker cooking vegetables such as bell peppers and zucchini; cook several minutes, until almost tender. Mix cornstarch and 1 3/4 cup milk until smooth; add to pot. Bring to a boil; stirring constantly about 1 minute, until mixture thickens. Add more milk if sauce is too thick. Season to taste with salt and pepper. Serve curry with rice and condiments.
Condiments:
chutney
toasted shredded coconut
dry-roasted peanuts or toasted almonds
ORANGE-SCENTED RICE
2 cups chicken stock or 1 can (14 1/2 oz.) chicken broth plus 1/4 cup water
1 cup freshly squeezed, strained orange juice
1 1/2 teaspoon Real California butter
1 1/2 cups basmati rice or long-grain rice
1/2 teaspoon finely grated orange peel
Salt and pepper
Bring chicken broth to a boil in a heavy saucepan. Add orange juice, butter and rice; simmer 15 to 20 minutes. Stir in orange peel; season with salt and pepper.
*Leftover cooked chicken can be substituted. Add chicken at the end of cooking just to heat through.