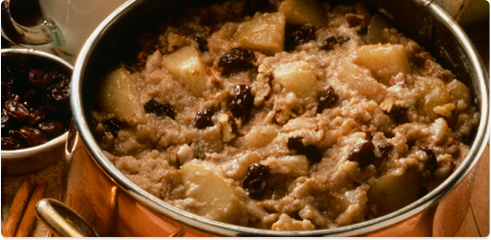 Makes 6 servings.
Ingredients
2 pears, peeled, cored and chopped
1/4 cup chopped pecans
1/4 cup seedless raisins
1 tablespoon Real California butter
3 tablespoons firmly packed brown sugar
1 tablespoon fresh lemon juice
1 tablespoon ground cinnamon
1 teaspoon vanilla extract
2 1/2 cups nonfat Real California milk
1/2 cup regular cream of wheat cereal
1 egg, beaten
Directions
In heavy saucepan, cook pears, pecans and raisins in butter 2 to 3 minutes or until tender. Stir in sugar, lemon juice, cinnamon and vanilla; remove to bowl. Set aside. Pour milk into saucepan. Cover and heat over medium-low heat until almost boiling. Gradually stir cereal into hot milk. Cook, stirring constantly, about 6 minutes or until thickened. Stir about 1/4 cup hot cereal into beaten egg. Gradually stir in about 1/2 cup more cereal into egg. Add egg mixture to saucepan with remaining cereal. Cook and stir over low heat about 3 minutes. Add pear mixture; heat through. Garnish with additional chopped pecans and sprinkle of ground cinnamon, if desired.
Variation: Spoon into serving dish and top with milk or a teaspoon of butter. Can be served hot or cold.