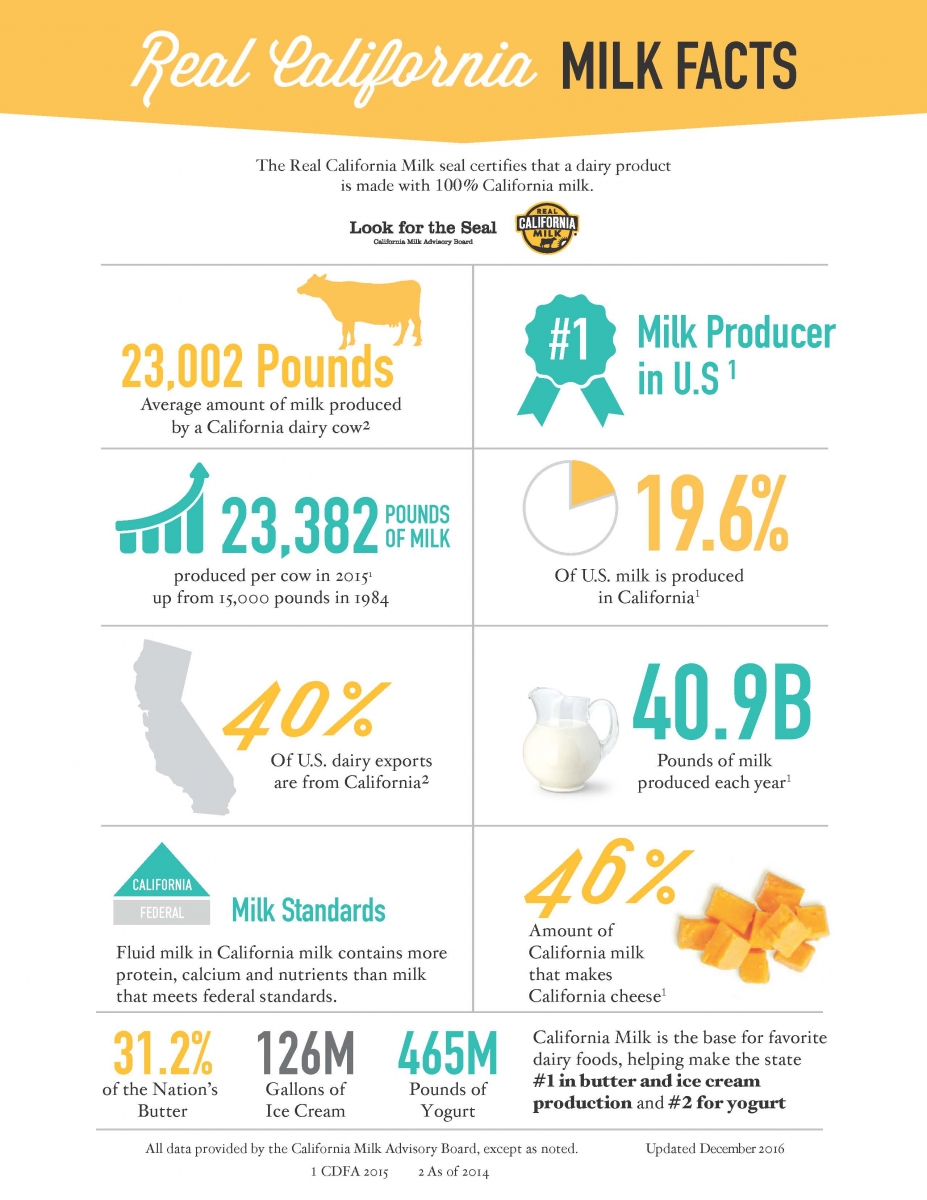 Open as a PDF (right click to save)
California has been the nation's leading dairy state since 1993, when it surpassed Wisconsin in milk production. California is ranked first in the U.S. in the production of total milk, butter, ice cream, nonfat dry milk, and whey protein concentrate. California is second in cheese production. (CDFA)
California accounts for more than 19.6% of the United States' milk production. In 2015, California produced 40.9 billion pounds of milk – more than one-fifth of the nation's total production. (CDFA)
Dairy farming is a leading agricultural commodity in California, producing $9.3 billion in annual retail sales in 2014. (CDFA)
Approximately 46 percent of all of California milk goes to make California cheese. (CDFA)
Currently there are 1,300 dairy families, whose farms house 1.7 million milk cows. Approximately one out of every five dairy cows in the U.S. lives in California. (CDFA)
The average California dairy cow produced 23,002 pounds of milk in 2015. (CDFA)
According to the most recent data, around 40 percent of the total U.S. exports of dairy products are coming from California in 2015. (CDFA)
California's milk standards exceed federal standards because California processors add nonfat milk solids which offer improved taste and nutritional benefits. California milk exceeds the federal guidelines for the amounts of calcium and protein in each serving.
Real California Milk can be found at retailers such as Wal-Mart, Sam's Club, Walgreens, Target, 7-Eleven, Vons, Albertsons, Ralphs, Stater Bros., Food 4 Less, Superior Grocers, Lucky, Longs Drugs, Nugget and O'Brien's. For a comprehensive list of retailers, visit RealCaliforniaMilk.com.
In 2015, Tulare County was the highest milk producer in California, with more than 27% of the state's milk production.
In 2015, Merced County was ranked #2 in total milk production in California, with an increase of more than 15% in the past year.