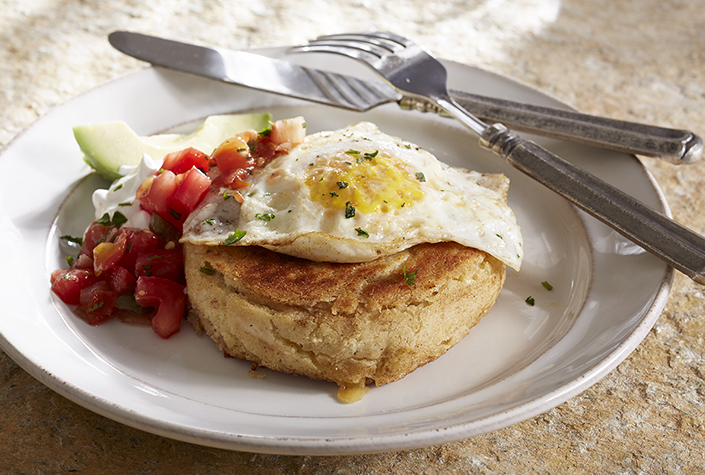 The California Milk Advisory Board celebrates May as "Hispanic Dairy Month" with expert tips and a shortcut recipe for tamales.
SOUTH SAN FRANCISCO, Calif., & MODESTO, Calif. (May 19, 2014)– It's no surprise with California's rich Latin heritage that the number one dairy state is also the number one producer of Hispanic dairy products. From melting cheeses like Oaxaca and Asadero to tangy cremas and drinkable flavored yogurts, flavorful, authentic and affordable Hispanic dairy products are no longer only found at specialty Latin markets but also in mainstream markets across the country. These products continue to grow in popularity and interest, but many consumers aren't exactly sure what to do with them beyond a drizzle of crema on enchiladas or a crumble of Cotija on tacos.
Last year, California cheesemakers crafted over two dozen types of Hispanic-style cheeses in two distinct styles: fresh and aged. Hispanic-style fresh cheeses include Oaxaca, which is a mild, white and semi-firm cheese that is similar to Mozzerella; Panela is another mild, white cheese that is firm and similar to dry-pressed Ricotta. Panela softens, but does not melt when heated, and because of this it is very versatile – use it in sandwiches and cooked dishes. A California interpretation of a traditional Spanish cheese crafted from cows' milk, Manchego is a white aged cheese that is a mellow and nutty table cheese.
The dairy experts at the California Milk Advisory Board (CMAB), recently partnered with Miami-based Chef, Giorgio Rapicavoli, who frequently utilizes California Hispanic dairy products in dishes in his popular restaurant, Eating House. "Hispanic dairy products work to balance flavors and provide a mild contrast to the often spicy flavors in Latin cuisine. I love to look for new ways to use these traditional products. I'll take a cheese such as California Requeson and use it instead of ricotta or cottage cheese in pancake batter. The lightness adds a great balance and texture. I also love to pair grilled seasonal vegetables with tangy crema and sharp Cotija," says Chef Rapicavoli. "Hispanic dairy products are so easy to find and work with, and they add authenticity and interest to any dish."
The CMAB celebrates California dairy products year-round, but in May they specifically celebrate Hispanic Dairy Month, encouraging consumers to sample the wide array of California Hispanic-style dairy products available nationwide. California dairy products are easily identified by the Real California Milk and Cheese seals on the package, signifying products are made with milk from the farms of the more than 1,500 California dairy families.
When choosing a Hispanic-style cheese for cooking, keep these three main categories in mind:
Fresh cheeses, like Queso Blanco, Queso Fresco and Panela, soften when heated but don't melt, so you can use them to make dishes like chiles rellenos with a soft, creamy filling that won't run out onto the plate.
Melting cheeses, like Queso Quesadilla, Oaxaca and Asadero, are creamy and mild, excellent for eating as a snack. They're the preferred cheeses for quesadillas, queso fundido and tacos, but they're also great for topping burgers and pizza.
Hard cheeses like Cotija can be crumbled or grated for a garnish, or mixed into a casserole or sauce for added flavor.
Latin cuisine can be spicy, but the cheeses are usually mild, providing a pleasant contrast. Also, dairy products can lessen the heat of fiery chile peppers in a dish as the casein in dairy binds with the capsaicin (the "heat" in chiles) to help wash it out of your mouth.
Melting cheeses like Oaxaca, Chihuahua and Asadero are great substitutes for Mozzarella on pizza. Sprinkle some pickled jalapeños and chopped cilantro on top for even more authentic Latin flavor.
If the process of making a beloved Latin dish like homemade tamales seems daunting the CMAB offers up with a clever and tasty shortcut.
California Shortcut "Tamales"
We've used the same ingredients as traditional tamales but streamlined the process. Great for breakfast, brunch or a quick dinner.
Prep time: 20 minutes
Cook time: 10 minutes
1 1/2 cups masa harina (corn flour)
3/4 cup California milk
1/2 cup chicken stock
5 tablespoons softened California butter, divided
3/4 teaspoon baking powder
1/4 teaspoon garlic salt
1 cup chopped California Oaxaca, Asadero or Monterey Jack cheese, divided
2 tablespoons diced green chiles
4 fried eggs
Stir together masa, milk, stock, 3 tablespoons butter, baking powder, garlic salt and 3/4 cup cheese in a medium bowl (dough will be soft). Divide into 8 equal pieces and shape each into a 1/2-inch thick circle. Place equal amounts cheese and chiles in the center of 4 circles. Cover with remaining circles and press lightly to enclose, pinching edges well to seal in ingredients. Melt remaining butter in a large skillet over medium heat. Add masa circles and cook for 5 minutes. Turn and cover skillet; cook for 5 minutes more or until golden brown on both sides, adding additional butter if desired. Top each with a fried egg and serve with salsa, avocado, unsalted crema and snipped fresh cilantro. Makes 4 servings.