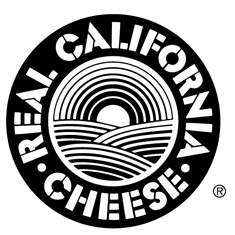 The Real California Cheese seal was adopted in 1984 as part of a strategic promotion effort for the California cheese industry.  The seal was created with heavy participation from the California Milk Advisory Board (CMAB).
The Real California Cheese seal depicts the image of California with a rising sun and rolling plains on a golden, Cheddar cheese-colored background. It is a certification mark that assures consumers they are purchasing natural cheese, made in California exclusively with California milk. With the seal, the CMAB has been able to consistently and effectively promote many styles and varieties of cheese from California cheesemakers who qualify for and use it on their packaging.
The Real California Cheese seal has contributed to the success of the state's cheese category, which is currently the fastest growing and also the largest of all California milk and milk product categories.