July

2013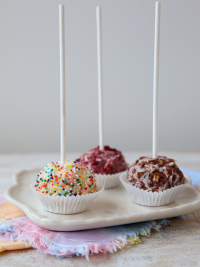 SOUTH SAN FRANCISCO, Calif., & MODESTO, Calif. – July 19, 2013 – Nothing beats the summertime heat quite like a scoop of cool, creamy ice cream. California is the nation's number one ice cream producer, churning out over 131 million gallons of scoopable sweetness this past year alone. To celebrate July Ice Cream Month, the California Milk Advisory Board (CMAB), representing California's more than 1,500 dairy families, has partnered with Chef Kristina Vanni to share new ways to enjoy one of America's favorite treats.
"There are so many ways you can enjoy ice cream beyond the cup or the cone and thankfully we have a whole month to enjoy California ice cream – any way you like it," said Kristina Vanni, host of BetterRecipes.com. "One of my favorites right now is making California Ice Cream Cake Pops, the perfect blend of one of the most beloved dessert combinations – cake and ice cream. Best of all, they're bite-size, customizable and a favorite among adults and kids alike."
To further celebrate National Ice Cream Month, the CMAB is looking for ice screamers to help spread the word for a chance to win a California ice cream party kit simply by posting an Instagram video of themselves, family or friends screaming "Ice Cream!" To enter, follow @RealCalifMilk on Twitter and post your video on Instagram with the hashtag #CAicecream.
About 90 percent of the American population regularly enjoys ice cream. In fact, the average ice cream lover in the U.S. enjoys around 48 pints of ice cream per person, per year. Moreover, the average person can finish off a single-scoop ice cream cone in 50 licks and approximately 13 percent of men and 8 percent of women admit to licking the bowl clean after eating ice cream.[1]
A self-proclaimed ice cream lover, Kristina offered the following tips for enjoying California ice cream:
To prevent an ice cream headache aka "brain freeze," grab some Real California whipped cream. Eating whipped cream can help the headache subside. Not to mention, it tastes great!
Rethink traditional S'mores and create a S'mores flavored ice cream pop by layering graham crackers, vanilla ice cream, marshmallows and chocolate in a Dixie cup and adding a popsicle stick.
Create a beautiful ice cream box gift by rolling ice cream balls in chocolate and using decadent toppings such as chocolate shavings, caramel, nuts and more. Present the ice cream balls in a candy or chocolate box to look like truffles. Be sure to freeze thoroughly and enjoy quickly!
Create California ice cream cupcakes by removing the cores from cupcakes and filling them with California ice cream. Frost, freeze, then enjoy a sweet chilly surprise.
Go global and create a Mediterranean inspired frozen novelty by taking frozen mini phyllo cups and adding pistachio ice cream drizzled with honey and nuts.
Celebrate July Ice Cream Month (following America's Birthday) with Birthday Cake Ice Cream Cake Pops, delicious portable morsels prepared with California ice cream and any flavor of cake.
BIRTHDAY CAKE ICE CREAM CAKE POP
Makes 1 Ice Cream Cake Pop
(Recipe developed by Kristina Vanni on behalf of the California Milk Advisory Board)
California Vanilla Ice Cream
2 Tablespoons white cake crumbles (or crumbs from any flavor cake)
1 Tablespoon multi-colored nonpareil sprinkles
Scoop a 2-inch ball of vanilla ice cream, immediately place on a sheet tray and refreeze. Place white cake crumbles into one small bowl and nonpareil sprinkles in another small bowl. When the ice cream is completely refrozen, remove from freezer and quickly roll in the white cake crumbles, followed by the nonpareil sprinkles. Insert cake pop stick and refreeze until ready to serve.
Ninety-nine percent of California dairy farms are family-owned. California produces more fluid milk, butter, ice cream and nonfat dry milk than any other state. The state is the second-largest producer of cheese, which is available nationally under the Real California Cheese seal. Dairy products made with California milk can be identified by the Real California Milk seal, which certifies that the products are made exclusively with milk produced on California dairy farms.
---
[1] National Ice Cream Retailers Association; International Dairy Foods Association