January

2014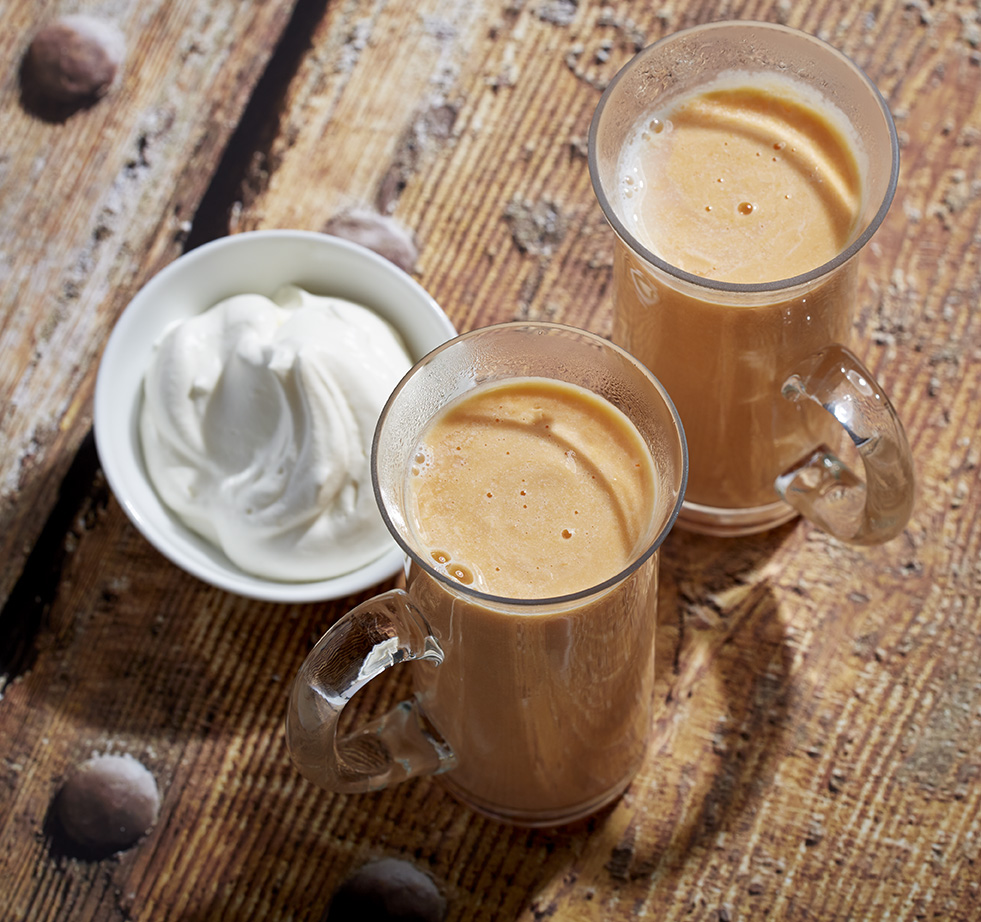 SOUTH SAN FRANCISCO, Calif., & MODESTO, Calif. (JANUARY 22, 2014) – Every new year, resolutions come and go, especially those tied to adopting a healthier lifestyle. According to a recent report, only eight percent of people keep their resolutions each year and most are broken within the first few weeks of January.[1] While we have the best of intentions to exercise more, eat healthier, maybe even give up that daily latte or sweet treat, often times the small changes are the ones that make a big difference. The experts at the California Milk Advisory Board (CMAB) have a sweet and easy place to start – with a Sweetpotato Latte. Rich, creamy and packed with nutrients, a California Sweetpotato Latte is the perfect healthy anecdote to broken resolutions. Made with a few simple, natural ingredients like California milk and sweetpotatoes, this delicious caffeine-free beverage will satisfy your sweet tooth while staying true to those healthy promises.
 The recipe is an inspiration by California-based blogger, Amy B. Sherman of Cooking With Amy who created this version of a drink she had in a Japantown café in San Francisco. "I loved the idea of a healthy, non-caffeinated drink to enjoy. This drink is naturally creamy from the milk and sweet from the sweetpotatoes, which makes it seem decadent without the empty calories and excess sugar you find in many lattes. It only has a few ingredients, making it simple to whip up whenever you're craving something sweet," said Sherman.
 Indulgence can be healthfully delicious when the starring ingredients are calcium-rich California milk and nutrient-dense California sweetpotatoes. Beyond tasting great, research has proven that consuming dairy products can do everything from keeping our bones healthy to keeping weight off[2] and sweetpotatoes are fiber-rich and an excellent source of vitamin A and vitamin C. [3]  
Ninety-nine percent of California dairy farms are family-owned and California is the number one dairy state producing more fluid milk, butter, ice cream, and nonfat dry milk than any other state. The state is the second-largest producer of cheese, which is available nationally under the Real California Cheese seal and yogurt. Dairy products made with California milk can be identified by the Real California Milk seal, which certifies that the products are made exclusively with milk produced on California dairy farms.
California Sweetpotato Latte
(Recipe developed by: Amy B. Sherman) 
1 cup California milk 
3 tablespoons cooked sweetpotato
2 teaspoons sugar
2 drops pure vanilla extract 
Heat the ingredients in a pot on the stove over medium heat, or in a mug in the microwave. When heated through, pour contents into the blender and whiz until foamy. Pour into a mug and serve.                                                                                      
For more delicious recipes showcasing dairy products made with milk from California's more than 1500 dairy families, visit RealCaliforniaMilk.com, like us on Facebook at Facebook.com/RealCalifMilk.com, follow us on Twitter at Twitter.com/RealCalifMilk and  Instagram @RealCalifMilk and pin us at Pinterest at Pinterest.com/RealCalifMilk.
About the California Milk Advisory Board
The California Milk Advisory Board (CMAB), an instrumentality of the California Department of Food and Agriculture is funded by the state's more than 1,500 dairy families. With headquarters in South San Francisco and Modesto, the CMAB is one of the largest commodity boards in the United States. The CMAB executes advertising, public relations, research and retail and foodservice promotional programs on behalf of California dairy products, including Real California Milk and Real California Cheese.
---
[1] "Talk of the Nation," NPR 12/28; "New Year's Resolutions Statistics," statisticsbrain.com
[2] Dairy Council of California
[3] casweetpotatoes.com