January

2013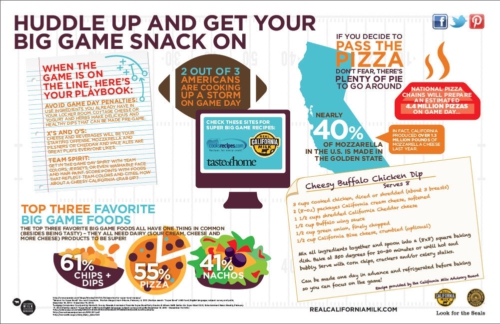 SOUTH SAN FRANCISCO, Calif. & MODESTO, Calif. – (January 31, 2013)— Whether used to make a dip, melted on top of pizza or drizzled on tortilla chips, cheese and dairy products rule as ingredient of choice on Super Sunday. When Americans across the country tune into the East vs. West match up on February 3, their top snacks will include chips and dip, pizza and nachos[1], all made possible and delicious with dairy.
"Food plays a very important role on game day. In fact, if your team isn't in the running, checking out the food spread can be more exciting than checking the score," said Jennifer Giambroni of the California Milk Advisory Board. "Whether preparing food at home or ordering take-out, dairy products bring the flavor to the party. From butter to sour cream and cheese to milk, whatever you're noshing on during the big game the research we found shows that on game day consumers like their dairy on almost everything they consume."
Pizza could have the biggest Super Sunday fan following with national pizza chains preparing an estimated 4.4 million pizzas on game day.[2] And with nearly 40% of the Mozzarella in the country produced in California, chances are consumers are enjoying a taste of Real California Cheese when the Big Game comes around.[3] In fact, California produced over 1.3 million pounds of Mozzarella cheese last year[4] (more Mozzarella than any other state).
While that's a whole lot of pizza pie, two out of three Americans are still putting on their chef hats and searching for recipes to prepare on game day[5].  Visit RealCaliforniaMilk.com for big game recipes from a football-shaped cheese ball to creamy guacamole or check out the Game Time board at Pinterest.com/RealCalifMilk/game-time/ for super snacking ideas every fan will love.
California is the nation's leading milk producer and also produces more butter, ice cream, yogurt and nonfat dry milk than any other state. The state is the second-largest producer of cheese, which is available nationally under the Real California Cheese seal. Ninety-nine percent of California dairy farms are family owned and that means consumers are supporting dairy families when they look for the Real California milk and cheese seals when they shop.
[1] Lodging Companies: Courtyard by Marriot's Survey Reveals Americans' Favorite Super Bowl Party Snacks & Where We'll Gather for Super Bowl XLVI, Entertainment News Weekly, February 17, 2012 (Factiva search: "Super Bowl" AND food; English language; subject: survey and polls; December 18, 2010 – December 19, 2012)
[2]  http://online.wsj.com/article/SB100014240529702047409045771968605592044…
[3]http://www.cheesereporter.com/DPE.2011.pdf
[4] http://www.cdfa.ca.gov/dairy/dairy_data.html
[5] Takeout for Super Bowl? You won't be alone., The San Diego Union-Tribune, February 4, 2012 (Factiva search: "Super Bowl" AND food; English language; subject: survey and polls; December 18, 2010 – December 19, 2012)